To buy or rent scuba gear? Buying is always the soundest choice. But how much does scuba gear cost?
Basically, without going to specifics, you can expect to spend more than $2000 if you want to fully-equip yourself with all the scuba diving gear items.
Of course, this is a general figure. It could go much higher, or it can go lower depending on what you feel that you need most.
You have already acquired your scuba diving license, or we can say, your PADI or Naui scuba certification. You are ready to go diving. You have decided to buy your own gear – great decision that one!
But even if you have not earned  your scuba diving certification yet, the cost is not too high. You can read my article on scuba certification cost. If you know how to swim and you are of sound health, that is just about all the qualifications that you need to be trained for scuba diving.
It is very affordable. Well, most of the gear requires a substantial amount of money to buy then and there. However, when it comes to the best scuba diving gear, you know that it is not really about the cost, but the value.
First, here is a table showing all the scuba gear you will need:
[table id=4 /]
Tips For Buying Diving Gear
Buy your  scuba diving gear online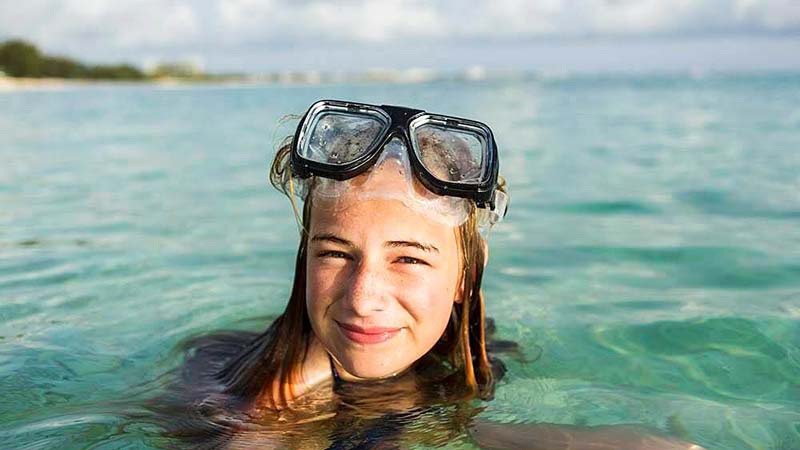 Always buy your scuba diving gear online in specialty stores or on the online marketplaces like Amazon. This is where the real deals are. While it may be good to go to Wal-Mart and pick a pair of scuba diving fns, well, if you buy it from people who have a full department dedicated to that, you feel much better.
There are many places to buy your scuba diving gear. You can start by looking for scuba gear prices and reviews on Amazon.com. There is a lot of variety from many brand names. You will definitely be spoilt for choice.
Of course, the most important thing to start with is to make a list of the scuba diving gear that you will need. This is where everything starts. Now, some of the gear is paramount. You cannot dive without it.
Unless you have a lot of experience and skill in freediving, you know you need gear. Ok, to rephrase that, you know that having your scuba diving gear right is a matter of life and death.
In scuba diving, there is very little room for error. You have to get things as right as possible, or as close as possible. For example, you have to wear a scuba mask that does not let water inside. You have to know how the BCD works and most importantly, you have to buy the right thing.
But even in the light of how important the gear for scuba diving is, you still need not buy everything. There are some that you can do without. Some you can rent and save money, especially if you are just a twice-a-year recreational diver.
Some diving items can be left behind. But just in case you need to buy your own scuba diving gear for long-term use, or you just don't like the idea of using diving gear that other people have used. It doesn't matter. If you need to buy your own gear, you have to know how much it costs, and how to save some money as you buy.
A scuba mask can cost anywhere between $20 and $250. Now, that sounds like low and high at the same time. Some masks as you will see are quite advanced.
Scuba fins are going to cost you anything from $19 to $200. Within this price range, you can find a pair of fins that is going to meet your needs, and your budget.
The cost of the scuba tanks for sale starts from around $200. It depends on the size. As you can see, buying a set of the required gear, including the dive travel bag, could cost you a good amount of money.
But the good thing is that most of this is one off-cost. Once you buy some of these items and you take very good care of them, you will be a long time before you need to replace them. So, if you can spare the money, go ahead. Buy them.
Why buy when you can rent scuba gear?
Buying your own gear is always worth it if you are an all-time scuba enthusiast. After all, if you live in a country like the USA, remember it has a 12,383-mile coastline, with some of the best places to dive and snorkel in the world.
If you are traveling to dive in places like Thailand, you may only carry a few diving essentials. Remember you have to fly there. It is much better to rent what you need from the dive shops there, than carry everything from home.
Buying your own scuba stuff has many benefits. One of them is that you get the exclusive use of your gear. Well, you can share with family if you like, but you will have the exclusive use of all gear.
Another benefit is that scuba gear always has good resale value, If you take good care of it, you can always resell in future and make some good money. For example, you can sell your old scuba air tank, and buy a new one.
Renting scuba equipment whenever you have to go for a dive will eventually put a dent into your pocket, especially if you dive a lot. If you only dive for 2 times a year, you can rent. If you dive more often, you can buy your own gear.
Buying diving gear will give you the motivation to dive in various places. I mean, just seeing that drysuit for men hanging there in storage is enough motivation to go and seek the freedom of the water.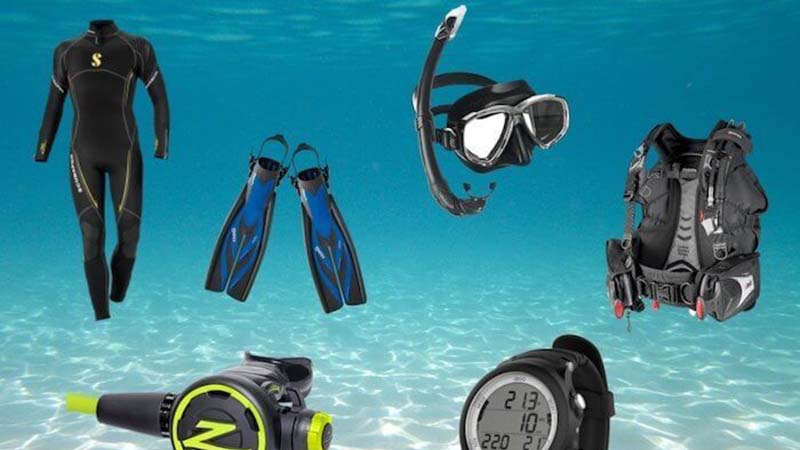 Create a shopping list – Decide the diving gear you need most
One of the things that determine the cost of your scuba diving gear is the quantity. To be fully equipped to conquer the depths, you need to have certain gear with you . Some you can maybe do without, but it is always a good idea to have as many as you can have with you.
The mask for scuba diving is a must-have item. It is built to prevent the water from getting to your eyes. Thus, you can see clearly in the water, that is, depending on how clear the water is.
You will also need the scuba fins because they help with propulsion in the water, same as an underwater scooter. Now, there are many types of scuba fins. Some are open heel, others are closed heel. There are full blade ones and yet others are split blade. Others are long, others are short.
As you can see in the table above, scuba equipment for a basic diver can be quite a handful. And you also have to consider that there are scuba diving accessories like the scuba holder systems.
To know the answer to the question of how much does scuba gear cost, first make a good  shopping list and stick by it. You can then cross off the things that you may not need immediately.
Buy high quality scuba gear
Many things determine the cost of your scuba gear. One of them is the material used to make the particular piece that you are looking for. For example, when buying a diving scuba tank, you may find that there are different types to consider.
This tank is one of the most important of all scuba diving gear. It is the container that carries the air that you will breathe under the water. The bigger the better – more air means more underwater time. However, you also have to consider the weight and the cost.
You may look for a used scuba tank if you like, but then, you have to ask yourself whether it will have benefits like warranty, whether it has been repaired many times and so on.
The scuba diving tank is made of steel or aluminum. They have different buoyancy levels. Another thing is that aluminum tanks sustain dents easily while steel tanks do not. However, steel tanks may corrode with time while aluminum tanks do not.
But material does not only apply to the scuba tanks. Even wetsuits and other things matter. For example, a 5mm neoprene wetsuit might cost more than a 2mm wetsuit for diving in warm water.
The same measure of thickness applies to the best water shoes, diving gloves and so on. Typically, cold water scuba diving gear will cost more than warm water, because of the building technology. The seams need to be sealed, the cuffs, neck and the ankles. All these factors contribute to the cost of scuba diving gear.
Buy from established brand names
Some brand names are quite costly, because they have been in the market for a long time, they have proved themselves and they deliver good results. Many people can vouch for them. For example, a name like Cressi, an Italian dive gear maker is very popular.
This does not mean that the new entrants into the market are bad. No, in fact, they might save you some money because, face it, they are trying to establish themselves. As long as there is warranty coverage, take such.
Whether you are a recreational or commercial diver, a diving computer is very important. It can help you determine which areas have the best, clear water for diving, the amount of time that the scuba tank lasts.
You can buy scuba gear on discount

One of the best things that you can do to save money on outdoor gear is buy when it is the off-peak season.
Thus, while many people buy diving and snorkeling gear to use in Spring, summer and fall, you should make a point to buy yours after October. You can be sure of getting a discount then.
Stay on the lookout for Black Friday deals so that you can cash in on them as fast as they happen. The good thing is that you do not have to go for a doorbuster deal to get a discount. You can shop online from the comfort of home.
Even online marketplaces like Amazon offer discount on many snorkeling and scuba diving items. For example, by the time of publishing this article, a discounted Vaincre Full Face Snorkeling Mask was selling at a more affordable price.
Discounts on scuba equipment are not offered on the small items only. You can also check on sites like ScubaPro where you can find a wetsuit for women heavily discounted from $150 to $99. Now, that is a good discount right there. Usually, such hefty discounts are offered on items that have been out on clearance sale.
The thing is, there are discounts all the time, only that most people forget to ask for one, or to look for one. When you buy scuba equipment when it is not diving season, you can save a lot more money than when you buy in the warmer seasons.
Do not spend too much on your gear if you can spend less and save some money. Always search for coupons on Google. You can even subscribe to coupon and discount sites so that you are notified whenever a good deal is going down.
This is very important. You must buy the right diving gear for warm or cold water diving. Usually, most of the gear can be used for both types of water.
The scuba tank, the BCD for diving, scuba weights, scuba mask and computer, watches and even most knives for diving are good to be used for any water.
However, for scuba diving in cold water, you may need a thicker wetsuit for men or women (from 5mm) as opposed to a thinner one (2mm) for warm water.
Just the same way that you buy the scuba suit, you will also need to buy scuba diving boots to prevent your feet from freezing in the water.
You may use a drysuit for kayaking with your kids or just use a wetsuit depending on the conditions. The good thing is that there is scuba gear for just about any kind of water that you may dive in. Even if you are going diving in Alaska, there is gear that is good enough for that.
Conclusion
How much does scuba gear cost to buy? As you have seen here, it is hard to say the definite cost because different people need different things. For example, one may buy an expensive diving camera while another may buy a cheap one. Once you have made your shopping list, decide what is the bigger priority and go for that first.