Are you bored with your daily life? Do you want to take an escapade from the daily hustles and wish to go to a nowhere land to rest down your stress? What about a scuba diving holiday then? However, planning a scuba diving holiday is not enough; you also need to circle the right scuba diving spots to make the most out of it!
California, which is very popular as a picturesque destination for sightseeing and shooting, holds its name high as a scuba diving destination. Yes, you have heard it right; apart from all the sunshine that this country bestows on the backpacker, it sheathes some stunning and incredible diving sites that are worth all your attention.
So, if you have made up your minds to scuba dive in California, here are a few sites that you can hit to enjoy the best scuba diving in California:
Farnsworth Bank

Towards the west of the famous Santa Catalina island, you can consider dropping down in the vicinity of Farnsworth Bank to have an entirely different scuba diving experience. One can find big sized pelagic and significant water creatures at this place. At Farnsworth Bank, you can also spot Mola mola, also known as tuna fishes, sharks, and various other water creatures that inhibit this bank.
Also, you can witness the soft corals, sea anemones, and cobalt sponges, which will give you an amazing experience. The colors are beyond your imagination and are no less than a colorful treat to your eyes. This place may not be apt for novices and calls out all the pro scuba divers to dive amongst the one of the Best scuba diving in California sites. However, it is always recommended to underwater mask and all the necessary gear for your safety.
Wreck alley

Another Best scuba diving in California spot is the wreck Alley in San Diego; the name itself gives you an idea about the mystery that you can explore underwater. Here you can spot a Yukon wreck, which has been infamous for a long time and lies below 100-feet from the water surface. It is said that the Yukon was a Canadian destroyer and is approximately about 366-feet in length. This wreck is intact and also houses a variety of marine animals. Apart from the Yukon wreck, you can also explore the Ruby E wreck.
Point Lobos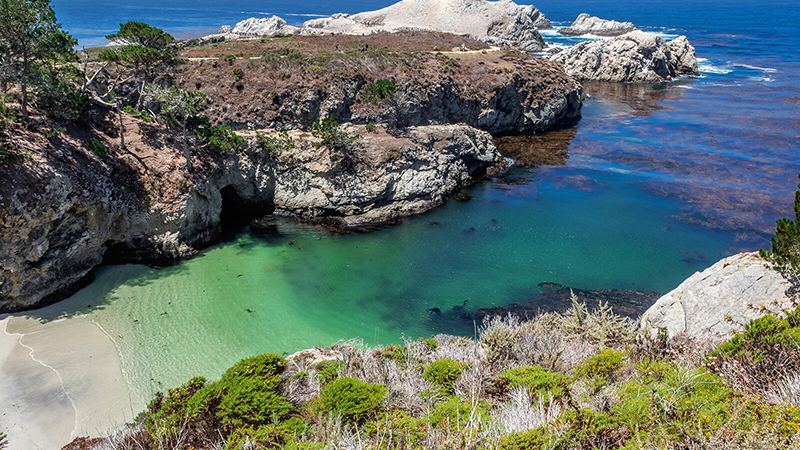 Planning a holiday trip to California and missing out on the Carmel Bay can be a total spoiler. Especially if you are out for scuba diving in California, you cannot merely consider skipping the Point Lobos state that showcases a beautiful coastline stretching along with jagged cliffs to sing the glory of this super spectacular place.
There is a whole hidden mysterious world of its own in and around the coastline & once you decide to drop down at this place, it can leave you in an awestruck state. It is a whole different universe for the scuba divers, and they call it a spot where one can get the best memories of scuba diving. Being in the waters of Point Lobos, you can swim across the dense kelp forests and also find yourself swimming and sharing space with some of the most exceptional marine animals that you may have never seen before.
The colorful aquatic animals and the sharks add on to the beauty of the place and can leave you spellbound to come back again and explore while you dive in the calm waters. But make sure that you always have the lights handy while you dive down the Point Lobos waters because it is also home to overhangs and small hangs that may obstruct your path while you swim across the blue wonder liquid. Sea lions, wolf eels, sea otters are a few marine animals that will make your scuba diving day in Point Lobos.
Catalina Island

The Avalon underwater diving park is the crown of the Catalina island that beholds the attention of various holidaymakers from all walks of life across the globe. Flying fishes are the major striking feature of this island that populates this place. It stands as a great place of exploration for scuba divers who can dive down and see the ancient shipwrecks and Avalon reefs. Also, one can catch sight of orange-colored Garibaldi owing – all thanks to the calm and crystal-clear transparent waters of the coast.
Southeast Farallon Island

It has an extended coastline of 32 miles and has some technical arguments of being in San Francisco or not. This Island is a part of the National Marine Sanctuary – Gulf of Farallon. If you are planning to get to the best scuba diving in California sites, then you can consider checking in to this place as this place offers you the opportunity to share space with white sharks underwater. The white sharks, seals, and sea lions use this water space as their route of migration, and thus, being deep below the waters at this place can surely let you have a glimpse of these impressive species. You can also consider cage diving apart from scuba diving, which is another famous water sport of this place and allows you to be near the white sharks.
Coral Street, Pacific Grove

If you wish to enjoy scuba diving in a scenic beauty place, then you should definitely pay a visit to the Pacific Grove. This scuba diving location is basically the intersection point of Coral Street and Oceanview Boulevard and offers a simply fantastic view from any part of Monterey Bay. Here you can spot the purple urchins that have been reportedly multiplying over a few years now and are giving a fierce competition to the other marine animals due to their huge population. Also, they have been consuming all the algae and kelp present in the Coral streets and hence are raising an ecological concern on the coast of California.
Witnessing the white shark at the Californian coast is like a dream come true. This coast is the turf for these sharks. They might not come there often, but yes, you can be lucky enough to spot one being at this place. The sea is expected to be calm during the day time, and it is a perfect place to learn scuba diving skills as a novice. The depth near the shores is about 30-feet, but if you proceed further inwards, it increases up to 80-feet.
Channel Islands National Park

Santa Barbara – a part of the channel island – is highly famous for scuba diving in California that houses ample marine animals in its heart. It is also renowned for its panoramic view and is thus quite popular amongst nature lovers. Also, there are lots of places that are yet to be explored, and therefore, you can surely consider adding this place in your itinerary to explore the unexplored. This place is best for scuba diving and also allows you to take a dip amongst the whales, sharks, sea lions, and a lot of other marine species.
San Diego Area

Towards the south of California, on the Pacific Ocean shores, lies the San Diego area, which is another popular destination for scuba diving. This city, apart from allowing Best scuba diving in California, is also known for the nightlife, party, beaches, and fun unlimited elements. This place witnesses' tourists all-round the year and also fledges the globetrotters with a multitude of options for outdoor activities. May it be swimming, surfing, hiking, diving, you can try it all out at San Diego.
Bluefish Cove

As you can make out from the name, the cove gets its name owing to the blue rockfish population that one can find here. Here you can find a variety of marine creatures, including algae, crustaceans, and other sea animals. The cove is rich in nutrients and also houses kelp forests marking its name in the Best scuba diving in California sites.
If you want to explore your potential and want to know how deep can a scuba diver dive, this cove is best suited for intermediate and advanced scuba divers. The depth of this cove ranges between 20 to 65 feet, and thus, scuba divers, with a bit of scuba diving knowledge, have a gala time out there chilling underwater.
Malibu Area

Malibu is located on the Pacific Ocean coast and stands as a symbol of America's pop culture. Malibu offers the scuba divers a serene place to dive down inside its blue waters to have some awesome time amongst the sea animals. Malibu has also been featured in various movies and television soaps owing to its beauty and picturesque sceneries that can win anyone's heart. There are plenty of diving sites in and nearby Malibu, where you can give wings to the innocent scuba diver inside you.
Lovers point

Lovers point stands as one of the best diving locations and has different entry points, making it a perfect diving spot for diver enthusiasts. There is plenty of light in this diving site, and thus you can expect some clear visibility conditions while diving at this place. Another thing worth noting is that you do not need to have to opt for deep-sea diving as this place gets you a glimpse of the marine life inside the waters just by a few meters dive. Lovers point boasts about calm waters and warm waterways and offers the divers a chance to encounter cute little starfishes and jellyfishes that are worth watching while you take a plunge in the clear and calm waters of the place.
Naples Beach Long reef

If you are looking out for a prominent diving spot in California, then Naples beach can fulfill all your desires. Naples beach is located in Santa Barbara and is a part of the marine conservation park. The sea anemones that are seen covering the walls is a distinguishing feature of this beach. The Naples beach allows you to swim across the kelp forests and have a sight of the shipwrecks that are buried deep down the waters of the beach.
Additionally, it is home to different marine beings, including lobsters, yellowtails, sea lions, etc. Other water species are worth sighting when you dive into this fantastic beach waters. Apart from giving various opportunities to enjoy the water activities, this place is highly popular amongst the marine biologists who usually hit this place to study about the marine life and aquatic beings of this diverse water home.
Conclusion
It is said that the marine life of California is one of its kind and is considered to be highly abundant in showcasing various marine life species. Moreover, California stands as one of the picturesque places where you would love to spend your scuba diving holidays.
So, what are you waiting for? Book your tickets and land down in California to enjoy a trip worth