Many people ask; where can I dive in Africa? Well, read this short post and take your pick. These are just a few spots among thousands. Africa has a lot to offer to the itchy-foot traveller always seeking a new adventure. From so many diverse and unique cultures, to perhaps the biggest collection of tropical wildlife (plants and animals), you will never spend one boring moment in Africa. If you are a diver, know this continent has one of the most extensive coastlines in the world with lots of marine wealth for you to enjoy. So gather your diving gear and head to Africa. Prepare to be surprised pleasantly. The black continent has a lot in store for you.
Diving Destinations in Africa
When you visit Africa, don't be troubled about where to go diving. From Cape Town in the south to the Mediterranean in the north, you will dive with prodigious white sharks. Travel through Mozambique and Sudan and explore the rarely-seen coral reefs. You can also dive in Zanzibar, wreck diving is real!
So, where to go diving in Africa? Here are a few destinations for you to consider:
Diving in South Africa
While you can dive just about any time of the year in most other countries in Africa, in South Africa, you should dive in summer when the waters are friendlier. Any time between October and February is a great time for diving.
Diving in Aliwal Shoal – Kwazulu-Natal
South Africa is informally recognized as the shark diving capital of the world and it tends to focus on high adrenalin dive spots. One of the rare locations worldwide for a diver to come across bull sharks, oceanic black tips devoid of a cage protection is Aliwal Shoal in Kwazulu-Natal.
Sodwana Bay diving
This is one of the best diving destinations in South Africa if not in Africa as a whole. It has an incredible collection of reefs, perhaps the most beautiful that you will see in the world. The collection of marine wildlife here is amazing, Stingrays, whale sharks, turtles, manta rays and many more abound.
When you are done diving, just kick sand on any of the incredible beaches found here. Pristine white sands and sun are in plenty.
Protea Banks
This is one of the high adrenaline dives in South Africa. You will see sharks up close and candid, dolphins and other huge marine animals. If you are looking for a thrill, this is where you should go for diving. It is incredible. Water visibility is great most of the times, but it may be a bit blurry at times, so time your dive carefully.
Tiger Shark Dive
If you would like to dive among sharks and feel a chill down your spine, this is the place where you should go. You are advised to hold still at 8 meter's depth to catch the sights of the incredible sharks. Tiger sharks are attracted by the smell of fish heads contained in a drum that is attached to a buoy on the surface of the water. Imagine seeing a tiger shark that is bigger than 3 meters! That would be incredible. You will see why this is one of the places to dive in Africa.
South African Safari
Do not just dive in South Africa. Take a safari and see the most incredible collection of wild animals that you have ever seen anywhere together. A Kruger National Park Safari should serve your needs perfectly. There are so many things to see in South Africa.
Diving in Sudan
There are two main diving sites in Sudan that you should never, ever miss:
Sha'ab Rumi diving
Sha'ab Rumi is one of the best places that you can go diving in Sudan. Its location is approximately 26 miles from the Port of Sudan. This is a well-known diving destination all over the world.
The site is composed of beautiful marine life such as pelagic fish, barracuda and spinner dolphins. If you get lucky enough, you are likely to spot big sharks eating the red snapper.
The diving site is located in the Red Sea and at one time, it was a marching ground of Jacques Cousteau who would observe different marine animals regularly. The site has all favorable conditions such as good water temperatures and a lot of marine animal plant life.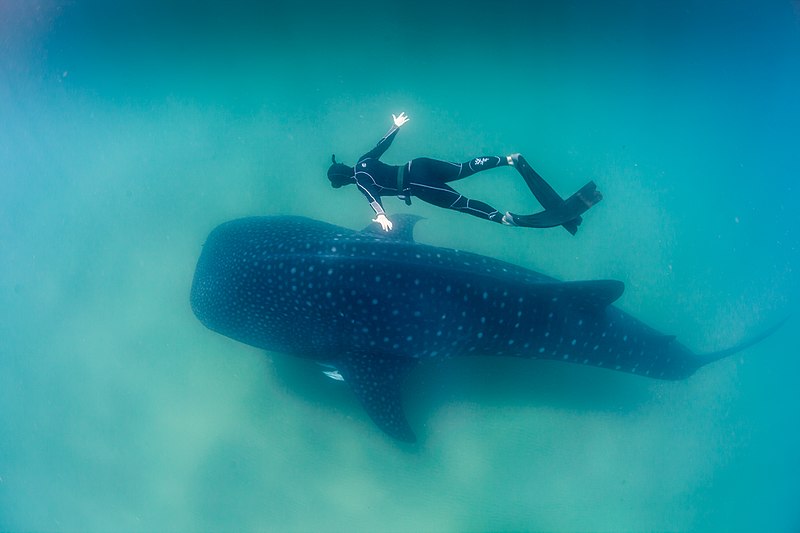 One thing that you will love about Sudan is that there is a lot of coastline and a huge selection of marine animals. Gray and hammerhead sharks are in abundance. Different types of fish abound and what's more, every month of the year is a diving month in Sudan.
If you are worried about safety, relax. Sudan is safer than South Sudan, which, by the way, has an abundance of wildlife. But you can still use the fear of strive to your advantage as this country does not get as many tourists as its neighbours does, so you can have a lot of shoreline to explore on your own.
The Wreck of Umbria – best wreck dive in the world
This is the wreck of the SS Umbria, which is regarded as one of the best wrecks in the world. The deepest part lies in 38 feet of water. If you go to Sudan, you must dive in this wreck to see what the ship carried when it sunk as well as meet all of the animals that have made this wreck their home.
Diving in Mauritius
The nation is located just about 2,000 kilometers in the eastern side of the African mainland and it is the major island in the State of Mauritius archipelago.
Now, if you think you have seen it all just because you have been to Madagascar, Kenya and Egypt, wait until you get to dive in Mauritius. It will blow you away. You should anticipate clear blue waters, plenty of coral and multi-colored marine animals.
St Jacques diving
Diving in Mauritius does not get any better than at St. Jacques where you can start at the shallow 5-meter end and then let the current carry you through the spectacular rock pinnacles, lagoon and coral walls, all the time meeting many marine animals on their prowl. Reef sharks, turtles, eagle rays, stingrays and white tip reef sharks are found here. The maximum diving depth here is 30 meters. The water is incredibly clear too.
The Cathedral
Just picture a cathedral in the water, and you will imagine what kind of adventure you can have here. The Cathedral diving site is marked by crevices, caves, arches, caverns and many more features, which are home to fish and other marine animals. You are advised to be careful about the coral crevices as morays and crustaceans hide there. Wear your diving gloves please.
Stella Maru – Wreck Diving
Sitting upright on the seabed is the Stella Maru wreck. This ship was rested by the Mauritius authorities to create an artificial home for marine animals in 1987. It is located right next to a reef. When you dive in this wreck, you will encounter fish like mackerel, scorpion fish, leaf fish, anglerfish, parrotfish and lionfish. You will also find moray eels, and many more creatures.
Diving in Mozambique
Mozambique is without doubt the unrecognized champion of African diving. One of the best diving sites that you can opt for while in Mozambique is Ponta do Ouro, which is well-known for the sightings of the bottlenose dolphin.
It is also famous for the pinnacles reef in Mozambique, which is regarded as the finest site in Africa where you can swim with bull sharks and other big marine mammals. For both the diving beginners and the advanced divers, the place is excellent.
There are other sites like Tofo beach located further north with great, captivating topography and strong coral cover. Tofo is among the few sites in Africa where there is a possibility of seeing manta rays and whale sharks anytime in the year, even though the best time to see these animals is between March and October.
When searching for information about diving in Mozambique, you will see that it is one of the most popular countries to dive.
Diving in Kenya – Diving in Mombasa
The weather in Kenya is good throughout the year, even in July and August. Visibility in the water might reduce due to silting, so it is best to avoid diving in the rainy season (mostly March to May).
One of the best places to go diving in Kenya is the Watamu Marine National Park, located in the northern coast of Mombasa is comprised of various world-class dive sites. The park is always under good management and tight security.
In Watamu, the reef is near the shore. There are easy to reach narrow gardens that are perfect for snorkelers and beginner divers. The park is a vital egg-laying site for the rare Green Sea turtle.
But Watamu is not the only place where you can take a dip. Try other places like Malindi, Kisite, Kiunga and Mombasa National Parks. With diving companies like Buccaneers which has been helping beginner divers to get certification, all the way to advanced diver level.
Reef diving
You will encounter a lot of marine wildlife in the diving spots in Kenya. Whale sharks, green sea turtles, reef sharks, manta rays, morays, barracuda, grouper, seahorse and leaf scorpion fish are just some of them.
Wreck diving
The Kenyan sea diving experiences are not left to the reefs alone. There are some great wrecks there starting with the MV Dania, which was a Norwegian cattle carrier that was scuttled many years ago and as such, it has become home to a lot of marine animals and plants.
Cave diving
The one thing that makes Kenya such an awesome diving destination is that you will get a holistic diving experience. From wrecks to reefs and now to the caves, little is left to the imagination. Just make sure you have enough time to dive there. For shallow cave diving, you must dive in the Vuma Caverns where you will swim with turtles, sharks and groupers.
Wildlife safari – Masai Mara
After you are done diving in Kenya, do not leave before you can have a great time in the Tsavo National Park which is the closest big park to the coast. There, you will see the big five beasts and then some. You may also go to the Amboseli National Park or to the famous Masai Mara for a hot air balloon ride in the morning from where you will see an astounding amount of wildlife that will last you a lifetime.
Diving in Seychelles – Tropical Diving
If you have been looking for the best warm water diving destination in Africa, Seychelles is the place where you should head this summer or whenever you like. With visibility going up to 30 meters sometimes and the water temperatures being as warm as 29 degrees Celsius, it is almost like diving in a hot water spring.
The turqouise blue waters of the Indian Ocean make Seychelles look like a marvel from above, and so do the bleached coral reefs. These were affected by what many think is global warming and their color was altered to white. But then, you will not be diving from the air. Just go to Seychelles and you will have a great time diving in canyons, caves, from cliffs and many more.
So where will you start your dive adventures? There are so many places for you whether you are looking for single dives or multiple dives. You can also go to diving centers that offer PADI courses at very affordable rates. There are many.
You will see a lot of wildlife in Seychelles. Manta rays, angelfish, butterfly fish, reef sharks, humphead wrasses, stingrays, hammerhead sharks, sailfish, whale sharks and silvertip are just a few of the marine life that you can expect to see here.
Whatever you do in Seychelles, you can be sure of one thing, and that is that your diving experience will be above board and you will never, ever forget as long as you live.
Diving in Tanzania – dive in Africa
Tanzania is not only very popular for hiking on Mt Kilimanjaro, the Serengeti and other national parks, but it is also known for being home to hundreds of tropical diving spots. You will never regret having made your way to this big east African country for diving. While some people will say that the best times to dive in Tanzania are from October to March, well, the truest truth is that any time is perfect for diving in this country's top spots.
Here are a few places that you must dive though:
Pemba Island diving
Pemba Island diving gives you many spots to dive in but the most popular one is the North Horn with its incredible population of sharks, and other animals such as Big Eye Trevally, Humphead Parrot Fish, Potato Cod and many more. Visibility will be great and starts at 20 meters to 40 meters.
Zanzibar dive sites
The most popular one here is Mnemba Atoll where you will see Sperm Whales, Manta Rays, Whale Sharks and Humpback Whales. It will be hard to see all these great marine animals on one dive as some of them appear on diverse months. However, the good news is that for every month, the dive sites in Zanzibar have something to offer.
Mafia Island diving
One of the things that should draw you here is Whale Shark. There are many of them and then there are other animals too, big and small, in the incredible coral reefs that abound on this island. You will love the isolated diving experience that you will get here, getting a whole stretch of the ocean to dive all on your own.
Lake Tanganyika diving
Fresh water diving in Tanzania does not come any better than you will get in Lake Tanganyika. You can stay at the Ndole Bay Lodge located right on the shores of Lake Tanganyika. People who have dived in this lake say that it is similar to diving in a giant aquarium. The water is clear and there are lots of fish to see.
You will find that Lake Tanganyika is located right in the middle of everything good. You can take safaris into the wild, enjoy the diverse culture of Tanzania and basically have a great time all round. You can be sure that you will never forget your experience in Tanzania.
Diving in Madagascar
When it comes to offshore diving, Madagascar in Africa is really competitive. Particularly, the country is noticeable for its coral reef system, which is the third largest in the whole world. Along the island's southwest coast, the reef outspreads for 300 kilometers creating a habitat for about 6,000 marine creatures.
Nosy be Madagascar
The elite resort island of Nosy Be Madagascar is located on the northwest coast of the island. You can go diving here between October and December, and you will catch more than enough sightings of the elegant manta ray and the massive whale shark. These two animals are the most desirable in the subaquatic world. Close to the east coast island of Ile Sainte-Marie are spectacular reefs and wonderful whale-watching.
Tanikely Marine Reserve
This is huge and it is divided into sections like the Tanikely North and South Reefs. The abundance of turtles, sharks and other marine animals will knock you off your feet. There is also the Misio Wreck in Tanikely, which is about 30 meters under water. It is home to abundant marine life.
Note that Madagascar has an extensive coastline with thousands of diving spots. However, some places have volatile diving so be careful where you dive. Choose the best diving instructors.
Diving in Egypt
The land of the pharaohs has quite a lot to offer to the itchy foot traveller and the diver. Just as it has contributed massively to the history of the world, Egypt also offers incredible diving spots for everyone.
There are terrific diving conditions, with the average water temperatures being about 26 degrees Celsius. In most cases, the visibility surpasses 40 meters. Can you believe that! From reef diving to wreck diving, there is something for everyone in Egypt.
Egypt diving spots have more than 1,100 species of fish recorded with a fifth of them being endemic (meaning they are only found in Egypt). The Red Sea is the best place where you can come across scalloped hammerheads and dolphin.
Some of the underwater high points comprise of the ancient national park in Egypt and the perfect reefs of Ras Mohammed National Park. In the northern Red Sea is a scatter of additional momentous wrecks. The southern reefs of Elphinstone, Daedalus and Brothers have been recognized because the elusive oceanic whitetip shark hasbeen found there.
When you dive in the Red Sea, you will see why it is referred to as the number one wonder of the dive world. The collection of marine wildlife here is incredible. Do make sure you enjoy the awesome culture of Egypt, see the museums and wallow in history.
Zanzibar Diving
One of the best places you can go diving in Zanzibar is Pemba Island. Zanzibar is famous for the outstanding diving places scattered throughout the island in various places. Most of the reefs in the island are intact and they are home to an abundant collection of marine life. On average, the temperature of the water is about 26 degrees and the visibility ranges from around 30 to 40 metres.
Start with a site like Njao Gap, which receives many visitors because of its distinctive features and abundant marine creatures. You can visit the site for other factors such as mountains, sheer wall faces and coral farms.
You must dive in the Mnemba Atoll Marine Park. Here, you can rent diving gear and if you are beginner, you will be trained. You will also enjoy a guided diving tour in the park.
That is it for now regarding the best diving destinations in Africa. These are just a few select countries, not the best by far, but they are a good place to start. Others like Morocco offer incredible desert, sea and city experiences for travellers. As a diver, you have not dived until you have been to Africa and you know it. You can take your pick of the best places to dive in Africa.